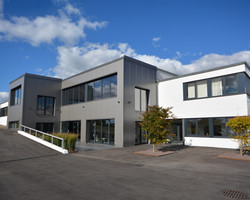 A special experience is the new fischer möbel showroom in Schlierbach, Germany. After a year of planning and construction, a  fascinating place with a spacious area has been created to discover the fischer möbel brand. The exhibition offers insights into the design and understanding quality of the premium manufacturer. This will be in different topics presented in an exciting and vivid way. You will see many exhibits of early history, as well as the first outdoor furniture with design award shown.

The company not only looks back on more than 30 years of outdoor furniture in Schlierbach. We also give you insights into more than 50 years of activities of the family company. The exhibition is aimed at visitors from all over the world, for architects to project planers, retailers as well as interested private customers.
The heart of the exhibition are the current high-quality furniture for outdoor living.  Here, the visitor experiences the latest developments of the high-quality range, learns more about materials and colour trends. Gladly you will be competently advised on site.
fischer möbel showroom
Dieselstraße 6
73278 Schlierbach
Germany
Telephone: 07021-7276-0 (direct -29)
info@fischer-moebel.de.de