Innovations 2022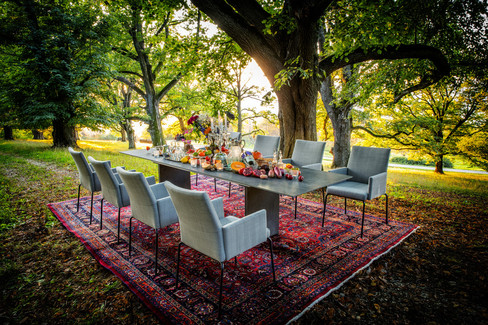 Doppio & Kalos
For the 2022 season, Fischer Möbel offers a new, innovative extending table for outdoor use. Especially when used outdoors, all parts must be non-rusting and weather-resistant. This places special demands on the materials used as well as the construction. Thus, only weatherproof, high-quality 12 mm ceramic slats are used. All fittings for the new extension table are exclusively made of stainless steel or aluminum. The new Doppio - table offers the advantage that the extensions, which lie under the base plate, can be simply and easily pulled out by means of functional pull-out rails. By pulling out, lifting and attaching, the table extends by 50 cm on each side. Only a small amount of force is required. Thus, the table can be extended from 160 cm to 260 cm, or from 220 cm to 320 cm. The width is 95 cm in each case. Another special innovation of the Doppio table is the flexible attachment of different foot frames. A foot frame is offered made of the same ceramic plates as for the table surface. This gives the table the appearance of a single piece. The next variant is a table frame made of 2 rectangular concrete columns.
Upholstered outdoor furniture is in vogue, thanks to weather- and dirt-resistant fabrics that are also lightfast. So no one has to do without the best seating comfort when it goes outside. The Kalos chair is softly upholstered and is individually manufactured in Germany. The chair is available as well as 2 versions with armrests, either stackable with armrest support or with upholstered armrest parts. The selection with more than 50 fabrics leaves no design wish unfulfilled.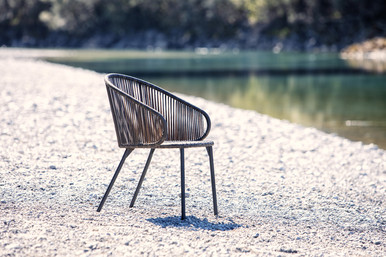 Basil Sessel
The Basil armchair ingeniously combines high seating comfort and elegant design, with weather-resistant and easy-care materials that make carefree outdoor use so pleasant. This is guaranteed by the weatherproof outdoor synthetic fiber, hand-woven around a lightweight aluminum frame. The new colored outdoor cushions in many different designs are attractive.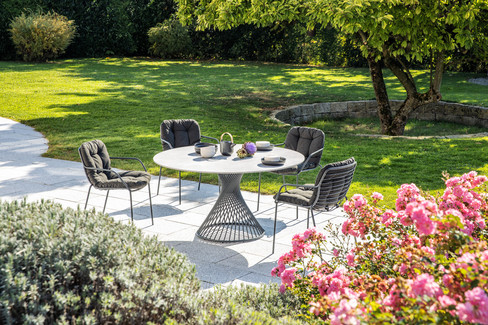 Claris Tische
In cooperation with the Mezger design studio, the successful Claris table series has been further expanded. New are the bistro tables with foldable table tops as well as the large, elegant column tables in round and oval. A variety of different, solid and weather-resistant ceramic table tops are offered to match the respective ambience. Everything is of course absolutely weatherproof and easy to clean for outdoor use.
Wing light Relax Sofa
Why not just enjoy the day in the cozy comfortable relax armchair or let your soul dangle in the hanging chair. Wing light shows itself as a modern series that gives the outdoor area a high-quality design. The Relax armchair, sofa and stool set new accents with their open weave and offer individual solutions for a relaxing time outdoors through different foot frames or hanging devices. Create your own relaxation zone in the garden with Wing light Relax.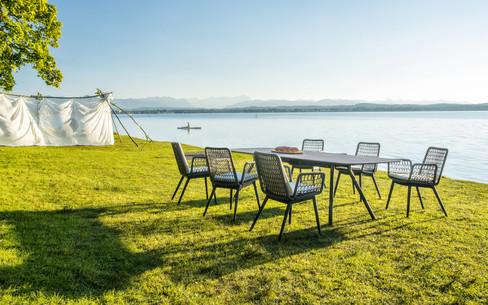 Wing light Sessel
Wing light presents itself as a modern series that gives a high quality design to the outdoor area. Designed for high-end outdoor, the armchair sets new accents with its handmade open weave. Depending on the ambience, a teak or aluminum base, white or anthracite can be selected. Matching seat cushions round off the range for a high level of seating comfort.Wing light presents itself as a modern series that provides a high-quality design for outdoor areas. Designed for high-end outdoor use, the armchair sets new accents with its handmade open weave. Depending on the ambience, a teak or aluminum base, white or anthracite can be selected. Matching seat cushions complete the offer for a high seating comfort.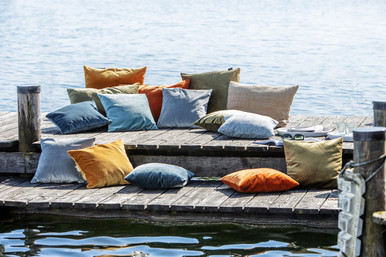 Luxury Collection
With the new outdoor fabrics, designing and decorating is even more fun! Fluffy soft fabrics made of high-quality, weather-resistant fibers ensure relaxed enjoyment outdoors and bring a breath of fresh air and good mood into your home. In addition to neutral colors, Fischer Möbel also offers unusual, colorful eye-catchers. Processed into high-quality cushions, they create new favorite places.
Tischoberflächen von der Natur inspiriert
With individual table tops made of 12 mm thick fm-ceramtop you can design your outdoor area very individually through the different formats, colors and surfaces. The selection offers many design options for different styles from modern to traditional. The design also plays an important role, such as the beautifully designed oval table tops, which turn your table into an exclusive and representative furnishing element. The material is unique thanks to the technical features such as absolute lightfastness and weather resistance and does not require special care.