2021-05-25
Outdoor Living - Vacation at home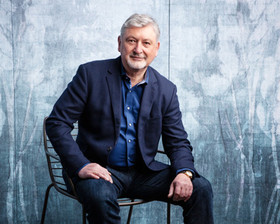 Mr Seyfang, you have known the market for decades. What has changed in recent years in particular?
Especially in recent times, there has been a lot of investment in the garden. People like to live in and with nature. So pool and landscape builders are booming. Generous terraces are being created and outdoor areas are designed as low-maintenance gardens with lots of greenery and high-quality planting. High-quality, stylish and representative outdoor furniture must not be missing. It is important here that the products are practical and easy to clean in addition to the appealing, individual look.
We are discovering more and more furniture in the outdoor area that looks like it comes from the living room. Can this furniture simply be exposed to any wind and weather and what about the weather resistance of the chic lounge furniture, daybeds and relax chairs?
This, of course, is a prerequisite for customer satisfaction. Many are willing to invest in high-quality furniture, but in return, they demand the best materials for a long lasting product. Thanks to our decades of experience with outdoor furniture, we can offer customers products that can easily withstand the weather. Best seating comfort and a feel like in a living room is a matter of course due to the latest materials.
How does this work with outdoor fabrics and upholstery?
The new outdoor fabrics used are made of modern synthetic fibers that are completely dyed throughout and are lightfast. These high-tech textiles also offer excellent protection against moisture and dirt. In the case of the cushions, an inside lamination or a waterproof ticking fabric ensures that the posters do not get wet in the first place.
The customers have an empty patio and now want to furnish it. What is the best way for them to proceed?
The best way is to visit one of our specialized trade partners with photos and a floor plan. These are often family-owned companies that take care of a project intensively and competently, make suggestions and individual plans, have material and product samples ready and take care of the professional order processing up to the installation on site. For customers who simply want to inform themselves online in advance, our website offers a practical online terrace planner with a 3D view. And if you live near our factory in Schlierbach, you are of course welcome to visit our factory outlet directly.
Tell us something about your favorite furniture!
Well, I have already accompanied many furniture collections from development to presentation, for example at the furniture fair in Milan. Our classic, the adjustable "Tennis Armchair", which characterized Fischer Möbel for many years from 1992 onwards, was a defining feature. We still have it on the terrace and it is still on offer. Today, I would also not want to do without an outdoor lounge. It's pure relaxation and can turn normal Sundays into vacations. In terms of dining sets, I'm a fan of large tables. During a summer dinner, even the almost three-meter long table is quickly full. My absolute new favorite piece of furniture, however, is the "Wing Light Relax Armchair" with runners – because relaxed rocking is immensely calming.